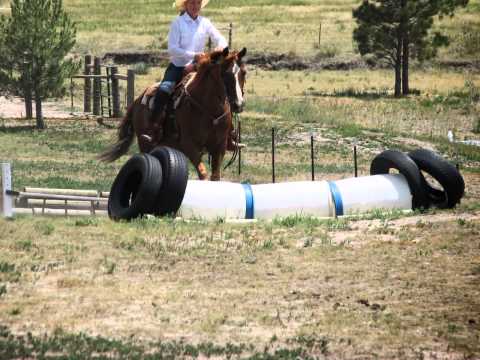 Sandy Clayton's place sits on the rolling hills along Hwy 86 outside of Elizabeth and just before you get to the rural community of Kiowa, Colorado.  Like most of the places along 86, Clayton's is an acreage property with a modest house and more investment in the horse improvements.  For the past two years, the Clayton's give host to a Craig Cameron week long Working Horsemanship clinic and then finish the week with an "Extreme Cowboy Race" on Saturday.
This year, for the first time ever, our own Heather McWilliams got it in her mind to enter Summer and join the contestants.  Summer – our (technically Asher's) American Quarter Horse  mare is 17 and the mother of 5 foals, a competition Reiner/Eventer/Gymkhana/working cow horse and all around great South Dakota ranch bred gal – would have the opportunity to add another discipline to her growing repertoire.
Asher and Heather took the opportunity to camp overnight on the grounds so the morning would be a little less hectic, then Shay and I headed out from home just after his morning nap to join them.  I was told not to worry about finding the place along the road to Kiowa – the instruction was to simply "look for the horse trailers".  Sure enough, upon topping one of the many rises in the road along that stretch, I saw gleaming aluminum and steel, lots of white paint, and horses with riders scattered across the pastures to my right.
Parking the car, Shay and I set out to find Heather and Asher among the array of trailers, trucks, riders and spectators.  It had the beginnings of a hot Colorado morning, a slight breeze in the air, but the temperature was already 75 F by 8:30 a.m.  As we passed the cook cart, the air was heavy with smells of breakfast burritos and fry oil mixing with the scent of pungent fresh horse dung.  Nice.
There were several classes of competition, from 1st Timer to Professional, and Heather had entered both the Novice and the Non-Pro divisions.  Like almost all Western Discipline riding events, strangers meet and become fast friends as the kinship of the horse life and love create quick and fast bonds.  So during the course of the day, spectators and waiting competitors all cheered each run, exhorting riders through tough obstacles and encouraging them both when they failed and succeeded.  Every horse was a "nice horse" and every rider a "pretty good hand".  That said, every rider also had a passion to win.
Heather was the 11th rider in her first class and as the waiting riders bunched at the entry gate to the course, me and the boys headed for some rare shade along the fence so we could watch for her and cheer her on.  This also gave Shay the opportunity to meet and greet with the array of dogs wandering by looking for pats.  I saw a German Shepherd, an Aussie, a Parsons Russell Terrier, at least two Cattle Dogs, one or three mixes and there also was the – Corgi headed with the ACD body – friendly girl who was available for adoption to a good home.
Before terribly long it was Heather's turn.  The first challenge was to put Summer through an obstacle that consisted of a vertical PVC rectangular frame with Styrofoam swim tubes reaching inward horizontally and almost touching in the middle.  The horse could not get through without feeling those fingers sliding down her flanks.  Summer had to think about it – needed some extra encouragement – then walked right through.
Following beyond were challenges like: wooden teeter totter bridge; maneuvering through an "S" curve of traffic plastic traffic style barriers; walking into and through a pit with a noisy tarp at the bottom and humming spin wheels on each corner; a freestyle pattern of the rider's imagination in the arena; various jumps and then – of course – roping the stationary plastic steer head.  Heather and Summer did really well.  After all, it was their very first such event.  By the way, competitors have no idea what the course will look like and which challenges have been picked until a walk through just before the day begins.  Each class has a different course with a different count of challenges.
Soon it was lunch and everyone gathered around the cook cart for freshly made burgers, brats, a ramped up cheese steak sandwich with jalapenos called The Canyon and thick, rough cut potato fries.  New acquaintances and old friends alike jabbed and jawed at each other while waiting to place orders and then even longer as each item was subsequently made to order.  One rider had traveled from as far as Kansas; several folks came from the Western Slope and another competitor used to live nearby but now calls Missouri home – for whatever reason that may be.
After lunch a youth class went and finally it was time for Heather's second round of competition, with the Non Pro's.  This course with 13 obstacles also started with a run through the swim tube fingers, then a canter around the barn and trips through tube fingers hanging and swinging from overhead: then a set of three jumps and into a roping arena to kick a huge red and white soccer ball down and between cones set up at the other end.  After the soccer ball the horse and rider had to ride over a tarp on the ground that was being actively soaked by a large donut shaped sprinkler attached to a garden hose.  I was pleased to see that Summer was the first in her class to actually get through this one – the horses  before deciding this set up was too weird and scary.  This time the rider had to drag two tires attached to a rope around a cone that and now the plastic steer head moved!  It was attached to a motorized (and squeaky) arm that sent it into a circle.
What a day!  Heat forgotten.  Beautiful horses, kind and gracious people, friendly dogs and rare shade from the sun.  Heather and Summer won a ribbon in the Non Pro group – Yay!
You may have heard of the Colorado Corral/MtnHomes4Horses.com Ranch Race.  Well, the seed was planted for that idea in Heather's mind while watching a video of one of these Extreme Cowboy Races.  Heather explained it all last month, but you will want to mark your calendars and join us for our fourth year on September 14-15th.  Either as a spectator – or a competitor.  It should be cooler day  – maybe fewer friendly dogs.  But kind and gracious people, beautiful horses, and maybe even a cook cart.  Andrew McWilliams (c) 2013.
For more about Hall of Fame trainer Craig Cameron and the Extreme Cowboy Race Association, visit http://craigcameron.com and http://www.extremecowboyraces.com.